BRLA is happy to announce its collaboration with X-League: Limited Contact Rugby League.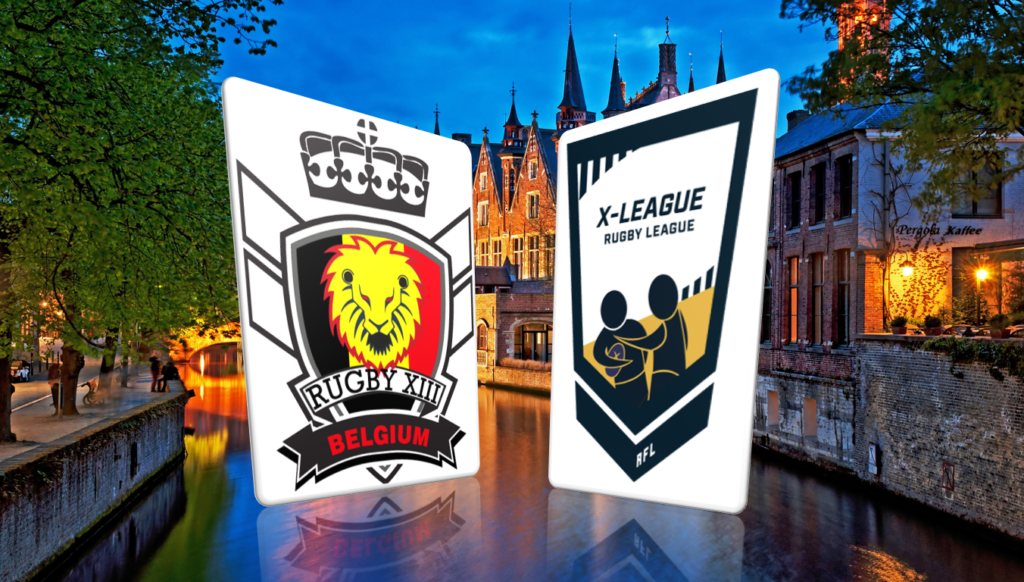 This variant of Rugby XIII is a concept created by Des Foy (former professional player).
Previously known as 'Eurotag', it has been used by various member nations of the RLEF.
But with its new name, X-League (pronounced Cross League) it has been adopted by the RFL as an official variant of Rugby League.
To be used as a tool for learning our sport and a way to increase participation rates.
X-League is a semi-contact version of rugby, where all the principles of XIII Rugby are maintained, except the tackle which is replaced here by a "tag" on the ball by the defender.
This practice has the advantage of facilitating the learning of the skills of our sport for those that want to play the full contact game, but it also enables the sporting and social development of people of all ages, abilities and fitness levels. This allows diversity during training, events and tournaments.
The BRLA will develop this practice among young people (both in schools and in clubs), juniors, seniors, veterans and women and defend the colors of Belgium in the next X-League international events.
---
BRLA est heureuse d'annoncer sa collaboration avec X-League: Limited Contact Rugby League.
Cette variante du Rugby XIII est un concept créé par Des Foy (ancien joueur professionnel).
Auparavant connu sous le nom d '«Eurotag», il a été utilisé par divers pays membres du RLEF.
Mais avec son nouveau nom, X-League (prononcé Cross League), il a été adopté par la RFL comme une variante officielle de la Rugby League.
À utiliser comme outil d'apprentissage de notre sport et comme moyen d'augmenter les taux de participation.
La X-League est une version semi-contact du rugby, où tous les principes du XIII Rugby sont maintenus, à l'exception du plaquage qui est ici remplacé par un "tag" sur le ballon par le défenseur.
Cette pratique a l'avantage de faciliter l'apprentissage des compétences de notre sport pour ceux qui veulent jouer au jeu de contact complet, mais elle permet également le développement sportif et social de personnes de tous âges, capacités et niveaux de forme. Cela permet la diversité lors des entraînements, des événements et des tournois.
La BRLA développera cette pratique auprès des jeunes (dans les écoles et dans les clubs), juniors, seniors, vétérans et féminines et défendront les couleurs de la Belgique lors des prochains événements internationaux de la X-League
---
BRLA is verheugd haar samenwerking met X-League: Limited Contact Rugby League aan te kondigen.
Deze variant van Rugby XIII is een concept gemaakt door Des Foy (voormalig professionele speler).
Eerder bekend als 'Eurotag', is het gebruikt door verschillende lidstaten van de RLEF.
Maar met zijn nieuwe naam, X-League (uitgesproken als Cross League), is het door de RFL aangenomen als een officiële variant van Rugby League.
Te gebruiken als hulpmiddel om onze sport te leren en een manier om de participatiegraad te verhogen.
X-League is een semi-contactversie van rugby, waarbij alle principes van XIII Rugby worden gehandhaafd, behalve de tackle die hier wordt vervangen door een "tag" op de bal door de verdediger.
Deze praktijk heeft het voordeel dat het de vaardigheden van onze sport leert voor diegenen die het volledige contactspel willen spelen, maar het maakt ook de sportieve en sociale ontwikkeling mogelijk van mensen van alle leeftijden, capaciteiten en fitnessniveaus. Dit zorgt voor diversiteit tijdens trainingen, evenementen en toernooien.
De BRLA zal deze praktijk ontwikkelen onder jongeren (zowel op scholen als in clubs), junioren, senioren, veteranen en vrouwen en de kleuren van België verdedigen tijdens de volgende internationale X-League-evenementen.
RXIII #staysafe #growthegame #rugbyleaguefamily #Belgium #rugby #Europe