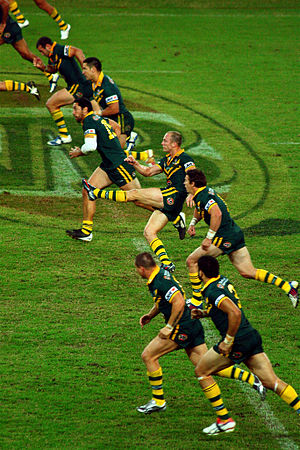 We asked a very open ended question recently what constitutes a 'good' set of six in Rugby League. We received a number of great answers.

Former Oldham and Barrow coach Stephen Deakin writes : "Depends largely on whether the set is coming out of one's own end (yardage) or is one that is in the opposition half (good ball). I think the philosophy in yardage( where sets are not always started with all the players behind the ball ie kick reception —is to go forward ; win the ruck and turn over possession as close to the opposition try line and touch line as possible— in goodball where the spaces are wider in the defensive line the principle object is to create pressure an overload . The importance of the last play is critical as an ordinary set with a kick that leads to a repeat set can be considered a great set whereas 5 great plays followed by an average kick that goes dead and leads to a 7 play 20 tap can well be considered average."
Rod Batchelor of Cork Bulls opens with : "A good start of a set is a good advantage line run, a la, Jason Stephen's!"
Joey Aglin former Oldham player now in Newcastle NSW, continues : "Every set should be different. Players should be playing to what's in front of them and responding to the ability of their more creative players inside. The game has opened up a lot now with some fantastic ball handling being shown, but we are losing certain aspects of forward play that brought out indecision in defense's which saddens me."
Warren Heilig, Norway Rugby League founder and Wynum-Manly life member puts it : "It depends on what you want to do, but you would have to play what's in front of you. Too many coaches these days want everything to be structured and they take the creativity out of players. The creativity is what creates doubt in a defences mind which then creates mistakes. The more questions you ask of a defence the more chances you have they get it wrong!"
Fed Laumua well travelled player coach, lays out a kick off set for us: "Depends on the situation, but from the Kick Off to settle, 1st- prop settle 2nd- lock settle, 3rd- prop settle
4th – 2nd row settles, 5th – kick chase, depending on field position, 20 out aim high to corners, 10 out roll it in goal for a repeat set. All settles aim towards middle of field preferably between posts, from penalties add variation on the 3rd and set up a power play on the 4th like a double block shape and 5th kick chase.
Jim Green of Chester Gladiators: "Broadly, retain possession, challenge the defence, create opportunities and an effective."
Damon Williams: "I'd say if you are getting a quick play the ball, in the area that you want it to be in, on each tackle of a set and you complete. It would be hard to criticise whether that is a scoring play or a play coming out from deep in your own half ."
Graham Hibbert St. Annes: Making good yards even if you don't score a try and can put the opponent under pressure to get from their line on their set
Luke Srama of Srama Rugby League Recruitment, keeps it simple: "Complete, good kick away find space."
Sam Lee former Chester University captain suggests from a personal point of view, "Scoots so I can have a rest."
Brad Ebzery Cork Bulls, ever the innovator adds: "Chip kick in own half on first tackle."
The overwhelming idea is that set should be varied and outcome specific. Making yards is important but taking on defenders is also important creating the balancing act of risk and reward, structure needs to applied but space to innovate is desirable.
In the context of X-League with the field being only 60 metres and most sets starting from 40-50 metres out from the try line it safe to assume that teams are in what is known as 'good ball' mode with only half a regular team. Which means that X-League sets are less about gaining metres and more about the 'end game' of Rugby League, the innovative and more attacking. That being said, a conservative set looking for cues to break out of the structure is often a successful formula.
This weeks question, What are the qualities of a great prop forward?